With generous support from York's Faculty of Environmental Studies (FES), the Indigenous Environmental Justice (IEJ) project hosted a five-part speaker series during the 2016/2017 academic year. The series, which sought to highlight Indigenous women and youth perspectives on environmental justice, was well attended by community members, local high school students, and York faculty and students. In keeping with place-based objectives of Indigenous protocols, four of the five invited speakers hailed from the Great Lakes region in Southern Ontario.
In the spirit of social justice, four of the five events were live streamed via the IEJ project's social media (Facebook and Twitter) channels to ensure that those who were interested but unable to travel for various reasons (financial, time, etc.) could participate. Further, all five presentations were recorded and transcribed. Please find the videos accessible through the IEJ project's website here.
The 2016/2017 Speaker Series was made possible through support from the following: Faculty of Environmental Studies; Osgoode Hall Law School; Centre for Research on Latin America and the Caribbean (CERLAC); Robarts Centre for Canadian Studies; Faculty of Geography; Faculty of Political Science; York Graduate Studies; Accessibility, Community, Equity (ACE) @ YorkU; Aboriginal Students' Association at York (ASAY); Centre for Aboriginal Student Services (CASS); and the York University students that contributed time and energy to make this speaker series a success - Meagan Dellavilla, Nasreen Husain, Monica Shafik, David Bazargan, Yumiko Kiuchi, and the rest of the IEJ project team.
Chi Miigwetch to our gracious supporters and attendees!
Summary of the 2016/2017 Speaker Series
"The sea is our bread": Interrupting Green Neoliberalism in Mexico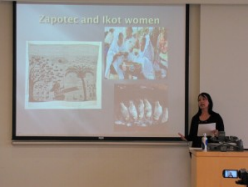 The series began in November 2016, with a presentation from Zapotec, feminist scholar and University of Alberta Professor, Isabel Altamirano-Jimenez. Dr. Altamirano-Jimenez shared stirring information on the ways an alleged "sustainable" development initiative has challenged Indigenous rights and sovereignty in the Tehuantepec Isthmus in Oaxaca, Mexico. Further, she discussed the community-led strategies guided by Zapotec conceptions of "communalism", or "The Good Life", that have been employed to counter the state-supported green initiatives.
Great Lakes Canoe Journey - Mobilizing Indigenous Knowledge and First Nations Communities by Birch Bark Canoes

Researcher, community advocate, and founder of the Great Lakes Canoe Journey, Sylvia Plain (Aamjiwnaang First Nation), opened the 2017 year with an uplifting talk on building capacity in Indigenous communities through revitalization of the canoe culture. As she explained, "this is not just about paddling", canoe trips signify the relationship between people and their waterways. Since the inception of the program, Plain has created four new birch bark canoe builders and taught over 2,000 elementary and university students.
 Environmental Racism in Canada's Chemical Valley

Twenty-four year old Anishinaabe youth activist, Vanessa Gray, joined us in February to raise awareness about the environmental and public health damage the petrochemical industry has been perpetrating against her 2 community - Aamjiwnaang First Nation - and communities across Canada.
Violence on the Land, Violence on our Bodies: Supporting Indigenous Feminist Land/Body Defenders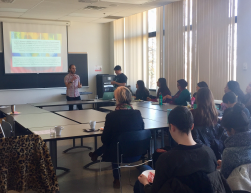 Two members of the Native Youth Sexual Health Network (NYSHN), Shane Camastro and Lindsay (Beze) Gray, shared information from NYSHN's recently released report and toolkit, 'Violence on the Land, Violence on our Bodies,' which was created to help Indigenous communities resist environmental violence caused by industry. The toolkit, which centers the experiences and resistance efforts of Indigenous women and young people, offers communities resources to expose and curtail the impacts of extractive industries on their peoples and lands.
 Longhouse to Greenhouse: An Emerging Food System at Six Nations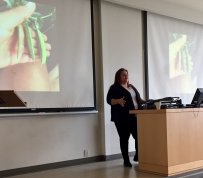 Adrianne Lickers, coordinator of the Our Sustenance program, rounded out this year's speaker series with a presentation on the emerging food system and farmers' market at Six Nations. As Lickers explained, "I know there's that old adage, teach a man to fish… but we can do the same thing with tomatoes!" The Our Sustenance program strives to revive culturally-relevant food practices while helping to build confidence in the idea that we are all capable of growing our own food.