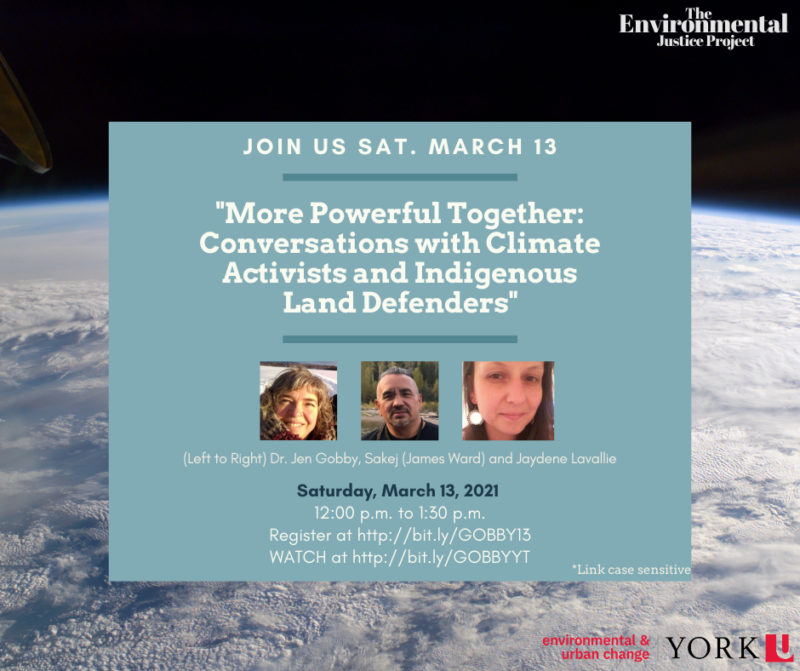 In this session of the Indigenous Climate Justice Series, settler scholar Dr. Jen Gobby highlights how research practices can be used to build stronger, more decolonial movements that can support transformative change in Canada towards decarbonization and decolonization.
Jen was joined by two of her research collaborators, who shared how their own lived experiences colour their approaches to land and water defense and other forms of activism.
Jaydene Lavallie is a Two-Spirit Michif-Cree woman currently living in Dish with One Spoon Territory (Hamilton, ON). She spends most of her efforts on anti-extractive and land defence struggles but has also dedicated herself to defending Hamilton against gentrification, fighting patriarchy inside and outside of organizing circles, and pushing for animal liberation.
Sakej (James Ward) belongs to the wolf clan. He is Mi'kmaw (Mi'kmaq Nation) from Esgenoopetitj (Burnt Church First Nation, New Brunswick). He holds a Bachelor's Degree in Political Science and Masters in Indigenous Governance. Sakej has a long history of advocating and protecting First Nations inherent responsibilities and freedoms.
This session is centred around many of the lessons Jen identifies in her book More Powerful Together: Conversations with Climate Activists & Indigenous Land Defenders, which features plenty of input from both Jaydene and Sakej. 100% of the royalties made from the sales of the book are being donated to Indigenous Climate Action.