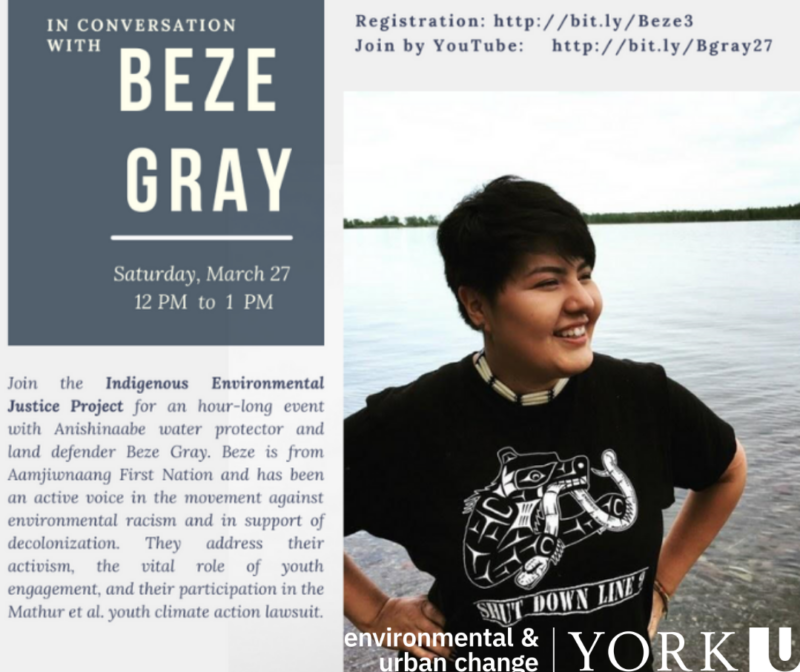 In this session of the Indigenous Climate Justice Series, Anishinaabe water protector and land defender Beze Gray shares some of their experiences and knowledge as a young activist.
Beze is from Aamjiwnaang First Nation and has been an active voice in the movement against environmental racism and in support of decolonization from a young age.
Whether working in the sugarbush to collect maple syrup during the spring thaw, learning Ojibwe in their own effort to revitalise the language, or entering the court room as one of seven youth suing Ontario's provincial government for abdicating its responsibility to address climate change, Beze's approaches to activism are varied and pull from their wealth of experiences. They also address the challenges and opportunities navigating this important work as a Two Spirit youth, and how they stay determined and hopeful when times get tough.
Many thanks to Hillary McGregor for opening the discussion and contributing a wonderful land acknowledgment.
Link: Ecojustice's case background summary of Mathur, et al. v. Her Majesty the Queen in Right of Ontario