"All Our Relations" took place as a winter a talk series sharing stories and insights about water and de-colonial water governance from the perspectives of Indigenous community based research and other water beings at the University of Toronto, St. George Campus. These events are co-sponsored by The Indigenous Environmental Justice Project (York University) and Great Lakes WaterWorks/Water Allies (New College/University of Toronto). All events were thoroughly promoted through the Water Allies and Indigenous Environmental Justice Project's list serves and brought together different people interested in learning and discussing topics surrounding community based research and Indigenous water justice.
Eels and Other Swimmers Teaching Us Life
This series began in January 2020 with Kristi Leora Gansworth, an Anishinaabe poet and geographer and a citizen of Kitigan Zibi Anishinaabeg. She has ancestry belonging to the Onkwehonwe Haudenosaunee. Her presentation focused on research related to current and historic relationships between humans and eels. Currently, Leora is a PhD candidate in the department of geography at York University. Leora Gansworth's presentation highlighted the human relationship to the eel and certain responsibilities to try to revitalize their place in the role of eels more broadly. Leora's clan is eel (Pimisee) and the word is a dialect of Anishnabek language, literally translating to down the river. Many eels are dammed in the Ottawa River and a lot of them are shrouded in the turbines, evoking disputes with a contingent of people who think that dam should be removed. This issue stimulated a lot of discussion at the event, since there are so many other ways to get electricity today. Many things are unknown about eels and are difficult to track because of the dams because the either get destroyed along the way or get lost track of. Leora mentioned that there is a strong desire to use dams but thinks it would be wiser to work beyond that because it is better for long term survival for the species.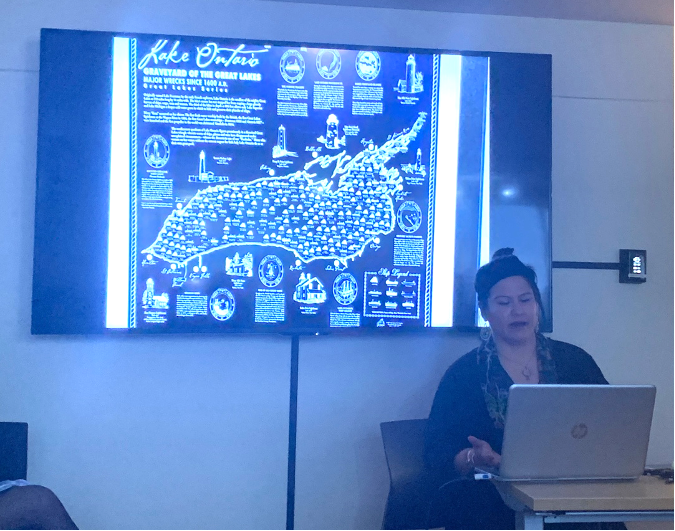 Belonging to the Lake: Unsettling Fisheries and Restoring Relationships at Nipissing First Nation
On February 6th 2020, Nicole Latulippe, a PhD in geography from the University of Toronto was raised in Nipissing Territory and is from Robinson Huron Treaty Territory in North Bay, Ontario. She presented "Belonging to the Lake: Unsettling Fisheries and Restoring Relations at Nipissing First Nation". At this talk, she discussed community-based research with Nipissing First Nation and the responsibilities supporting community members' sovereign fishing practices, focusing on ways the community has managed to maintain relations with Lake Nipissing despite government criticism and interference. During the time of her research there was on going strong controversy with traditional fishing practices due to policy changes effecting Indigenous fisherman and local economies. Nipissing First Nation has taken a stand with these challenges by strengthening their own sovereign and traditional fishing practices. The community implements moratoriums once a year on fishing, to regulate more spawning and sustainable practices. Nicole's work continues to develop over time and she considers writing a book conveying her findings and research.