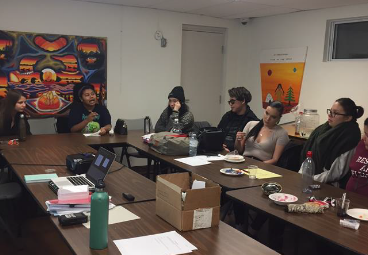 Meagan Dellavilla, a Master's student of Environmental Studies research engaged in the "We Are the Movement": Toronto-based Indigenous Youth Explore Environmental (In)Justice. In March, a two-part (6 hour) workshop series engaged 10 Indigenous youth in conversation about environmental (in)justice. Through arts-based activities, youth ranging in age from 12 to 24 articulated their experiences with and exposure to environmental injustice in the city of Toronto, as well as their visions for enabling greater justice amongst all beings. During the culmination of this workshop series, the youth were asked how they would like to see the research move forward. Honoring their interest in cultural resurgence and their request for additional opportunities to interact with other young people, a follow-up gathering was planned. This gathering was nested within the 2018 Connecting Culture and Childhood Project symposium, which brought together young people (and researchers) from 5+ countries to discuss the importance of cultural preservation and revitalization. With the support of the symposium, seven Indigenous youth living in Toronto joined young people from Venda, South Africa and Kimberley, and Australia in an exchange of art practices and a fluid conversation around how learning and sharing culture (re)connects us to the Land and the Waters.

With the support of the Indigenous Environmental Justice project, a 19-year old Anishinaabe artist, Patricia Martin, used these interactions as inspiration for a painting. The painting will hopefully travel to various sites as a way to continue this conversation, bring forward youth voices/ideas, and ideally engage more young people in similar conversations. A conventional academic paper recounting the research process and its findings is also forthcoming.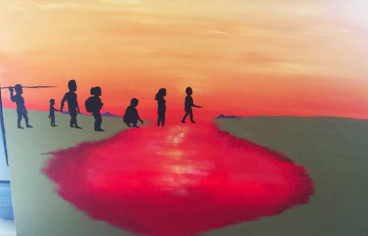 "Mino Bimaadiziwin" (2018), 2' x 3' Wood panel. As explained by Patricia Martin: Our responsibility is to walk in mino bimaadiziwin, the path of understanding, relating to and taking care of the entirety of nature. One Indigenous teaching states that there are seven generations behind you and there are seven generations in front of you. The seven figures walking (in the right direction) represent our ancestors from the past. We can find out their names, and what they did. Our future ancestors are "invisible" because we will never know our future relatives. We must walk gently on Mother Earth, in mino bimaadiziwin, before the next generations arrive. The sky is fiery to make your heartbeat faster, to evoke the awareness and urgency that we must feel to save our planet. The red water on the lower part of the painting symbolizes the healing power of women. Water is women's medicine, and women were keepers of the water. At this moment, the water needs us. We are damaging the environment so bad that the water is becoming unhealthy. We know that water is the foundation of life, and we must act quickly to save water, Mother Earth's blood. It is not only the duty of Indigenous peoples to take care of the land. The human race must understand that we all have a responsibility to the planet and realize that environmental justice is within our grasp. Open your eyes, this is all we have.