Hosted in Collaboration with Water Allies:
Stories and Sovereignty: Winter Tales of Water and Love – Walking for the Water
Date: Thursday, March 7th, 2019
Time: 1:00pm - 3:00pm
Location: HNES Room 140, York University
Speaker: Kelsey Leonard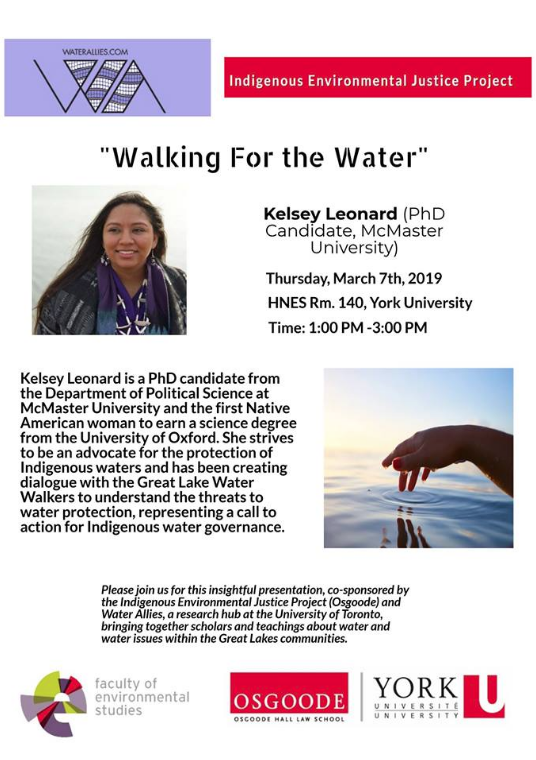 Kelsey Leonard is a PhD candidate from the Department of Political Science at McMaster University and the first Native American woman to earn a science degree from the University of Oxford, which she earned in 2012, she has an MSc in Water Science, Policy and Management from St. Cross College, Her master's thesis, "Water Quality For Native Nations: Achieving A Trust Responsibility", discusses water quality regulation and how water resources on tribal land are not protected. Kelsey strives to be a strong advocate for the protection of Indigenous waters through enhanced interjurisdictional coordination and meaningful consultation. She has been instrumental in protecting the interests of Tribes with the development of the Mid-Atlantic Ocean Action Plan and building a sustainable ocean future by valuing Indigenous traditional ecological knowledge. A part of her research has been creating dialogue with the Great Lake Water Walkers to better understand the threats to water protection in the Great Lakes, representing a call to action for Indigenous water governance.
On March 7, 2019, Kelsey Leonard (Shinnecock First Nation), scholar in water policy from McMaster University and water protector, gave a compelling presentation titled "Walking for the Water" at the faculty of Environmental Studies at York University. Her presentation discussed her research and experience with water walkers and how they have created awareness of the importance of water globally. Kelsey advocates for Indigenous approaches for taking care of water.
Kelsey left the audience with the following message "we need to be more like water…learn to forgive, adapt and not be so greedy…and that as people, we need to come to terms with the way water and colonialism's ongoing legacy has fragmented relations with the natural world and territories".
This event was sponsored by the Indigenous Environmental Justice Project, directed by Dr. Deborah McGregor (Osgoode Hall, York University) and Waterallies (New College, University of Toronto), directed by Dr. Bonnie McElhinny. The Indigenous Environmental Justice Project: http://iejproject.info.yorku.ca/ is a research project that aims to develop a distinctive framework that is informed by Indigenous law, concepts of justice and the lived experiences of Indigenous people. Water Allies http://www.waterallies.com/ is a hub for water issues at New College within the University of Toronto bringing together U of T scholars researching and teaching about water and Toronto/ Great Lakes communities.
By: Nasreen Hussain (Research Assistant and Video Editor IEJ Project)