January 27th, 2019
By: Nasreen Hussain
The Indigenous Environmental Justice (IEJ) Project has been working collaboratively with Osgoode Hall and the Faculty of Environmental Studies at York University to develop more knowledge and resources on environmental and Indigenous justice, and injustice, in ways that are both engaging and accessible. The process began in May 2016 when the Indigenous Environmental Justice Project held a symposium at Osgoode hall where many youth and scholars were invited to share their research and experiences with a larger audience and have discussions with the IEJ team, through both video and audio recorded interviews. This created further momentum to invite more scholars and activists to come speak at other events at York University and have conversations around Indigenous knowledge, law and the concepts of environment and justice. Through a lengthy process of research, interviews, transcription, mind-mapping, thematic analysis and extensive video editing, the project created four video vignettes that includes the voices and perspectives of Indigenous activists, youth, artists, grandmothers and elders who shared their stories and experiences with the project.
The videos that have been created in light of the event have taken the lens of participant experience and Indigenous research methods. Combining footage of participants, interviews and photos, the videos focus on people's reflections and relationships to environmental justice, injustice and action being taken to challenge dominant ways of thinking, acting, listening and being in the world. These themes highlight a thematic discussion around environmental justice, water decolonization, Indigenous knowledge, responsibility, reciprocity, relationships and reconciliation with the environment. The goal for these videos are to extend the conversation beyond the area of academia, into the realm of knowledge sharing and mobilization by being provided as a resource through social media platforms (Youtube, Facebook and Twitter), the IEJ website and through being incorporated into school lesson plans, curriculums and educational workshops.
Through the help of our organizers, Max Klein, Nasreen Hussain and Meagan Dellavilla, the IEJ project was able to launch of the four video vignettes on January 27th, 2019 at the Canadian Language Museum at Glendon Campus. This event brought together close to 15 audience members that were all interested in gaining more perspective toward environmental justice and injustice. The event began with a land acknowledgement and introduction by Professor and Principal investigator Deborah McGregor, outlining the research and work done by the Indigenous Environmental Justice Project and was followed by research assistants Meagan and Nasreen, discussing their Master's research and their contributions to the project as well as their experience throughout the video making and editing process. Accompanying Meagan Dellavilla was Anishnaabe Artist, Patricia Martin who discussed her perspective on the painting "Mino Bimaadziwin" explaining the importance of art and creating change for communities.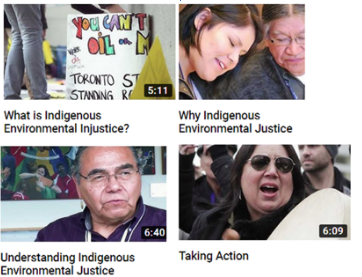 The audience expressed great interest in interpreting the painting. Many topics came up in association with keeping the environment healthy for future generations, making sacrifices and creating new beginnings in order for life to continue. These themes were mentioned due to the fact that the painting was of a sunrise with a community or group of people staying together and moving forward. Following this discussion were the launch of our four videos shown chronologically, as one theme built on the next. The four videos were Why IEJ Matters; Understanding IEJ; What is Environmental Injustice; and Taking Action.
People's responses to these videos were very positive and evoked a 'connection' they felt to the environment that these videos articulated. These videos also seemed to have a calming and contemplative effect on the audience. Once the videos concluded, a bit of silence was shared among the audience, as a way of paying respect and taking in the genuine voices and stories of the participants who shared knowledge and their experience with fighting environmental injustices. By facilitating this event, audience members gained exposure to themes such as Indigenous legal traditions that inspired interest and participation through discussion and thought provoking questions on how to support further research on Indigenous environmental issues. The IEJ website was referred to as a tool and resource for further information.
A special thanks to Osgoode Law School, Faculty of Environmental Studies at York University, Robarts Center for Critical Canadian Studies the Canada Research Chair Program, Dr. Deborah McGregor, Jason Jenkins, Nasreen Hussain, Meagan Dellavilla, Nicole Latulippe and Salisha Purushuttam for their contributions to the research involved in making of these videos.
Miigwetch!